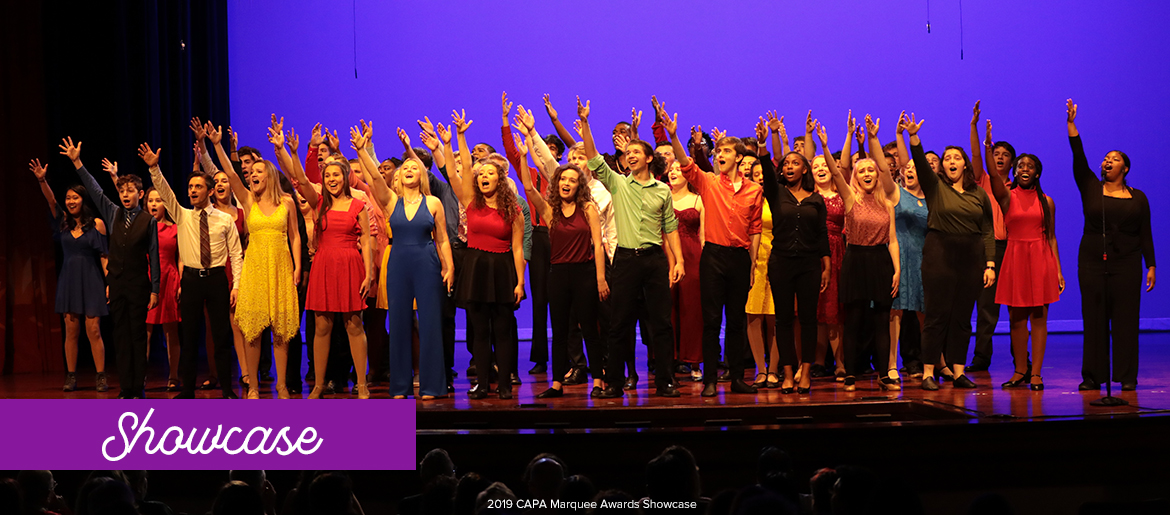 On Monday, June 3, 2019 at the Lincoln Theatre, we presented the CAPA Marquee Awards Showcase, a red-carpet event, honoring the CAPA Marquee schools, students and directors for artistic excellence in high school musical theatre.
Check out the highlights from this magical evening:
The 2020 CAPA Marquee Awards will be held on Monday, May 18 at 7:30 pm at the Southern Theatre.
The Awards Showcase will give students from ALL participating high schools the chance to perform at a professional venue and work with a team of theatre and music professionals.
Throughout the course of the evening, award winners will be announced, and audiences will experience live performances, including an Opening and Closing Number with nominated representatives from ALL participating CAPA Marquee Awards schools, production numbers from the five musicals nominated for Best Musical Production, and medleys featuring the Best Actor in a Leading Role and the Best Actress in a Leading Role nominees.
Tickets will go on sale to the public on Monday, April 27 at 10am. Because participating schools have pre-purchased the majority of the Showcase tickets this year and seating is limited, ticket sales will be limited to 2 tickets per person and will be sold on a first-come, first-served basis.
More information on how to purchase tickets will be available here in early April.
Rehearsals for the 2020 CAPA Marquee Awards are Monday, May 11 – Friday, May 15, 2020 from 4 – 9 pm, and Sunday, May 17, 2020 from 12 – 9 pm.
General rehearsal guidelines:
The Opening and Closing Number performers, Best Actor/Actress in a Leading Role nominees and Best Actor/Actress in a Supporting Role nominees should be available to rehearse for the full rehearsal period.
Best Musical Production Numbers should be available for the full tech/spacing/dress rehearsal on Sunday, May 17 from 12-9 pm.
A detailed schedule including all call times and locations will be provided to showcase participants.
Please note: Attendance at all required rehearsals is mandatory for participation in the 2020 CAPA Marquee Awards.